Yield: 12 ½-cup servings
For coffee syrup:
¼ cup granulated sugar
2 tablespoons (1 one-ounce shot) hot espresso
1 scant teaspoon brandy
Warm water
For tiramisu cream:
6 large egg yolks
¾ cup granulated sugar
1 tablespoon vanilla
16 ounces mascarpone
8 ounces heavy cream, whipped
To serve:
Unsweetened cocoa powder
12 lady finger cookies
1. Make coffee syrup. Combine sugar and espresso, stir until sugar dissolves. Stir in brandy and enough water to measure one cup. Set aside.
2. Make tiramisu cream. Whisk egg yolks, sugar and vanilla until thick, cover and refrigerate until cold. Whisk mascarpone into egg mixture, then fold in whipped cream. Can be made ahead, just cover and refrigerate until ready to serve.
3. To serve Lumière-style, just before serving, fill a round glass bowl with ½ cup tiramisu cream, dust with cocoa powder. Quickly dip a lady finger in coffee syrup, just enough to lightly coat, insert into bowl.
Notes: Espresso is an Italian strong coffee prepared by forcing steam or boiling water through ground dark-roasted coffee beans. If you don't have an espresso maker, just buy a shot at a local coffee shop.
Mascarpone (pronounced mas-car-PO-nay) is a soft Italian cheese, look for it near the cream cheese or in the cheese department in well-stocked supermarkets.
Per serving: 365 calories; 28g fat; 15g saturated fat; 200mg cholesterol; 6g protein; 24g carbohydrate; 17g sugar; no fiber; 50mg sodium; 85mg calcium.
Recipe adapted for home kitchens by the Post-Dispatch.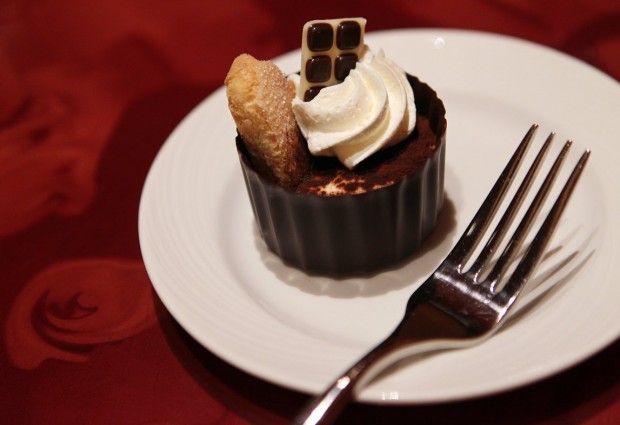 Special request recipe, tiramisu from the buffet line at the Kitchen Buffet and Bistro at Lumiere Place in St. Louis on Tuesday, June 25, 2013. Photo by Stephanie S. Cordle, scordle@post-dispatch.com